Mono
materia
THE COLLABORATION BETWEEN MIPA AND STUDIOCHARLIE MARKS THE IMPORTANT GOAL FOR THE COMPANY TO ENTER THE OBJECTS SECTOR.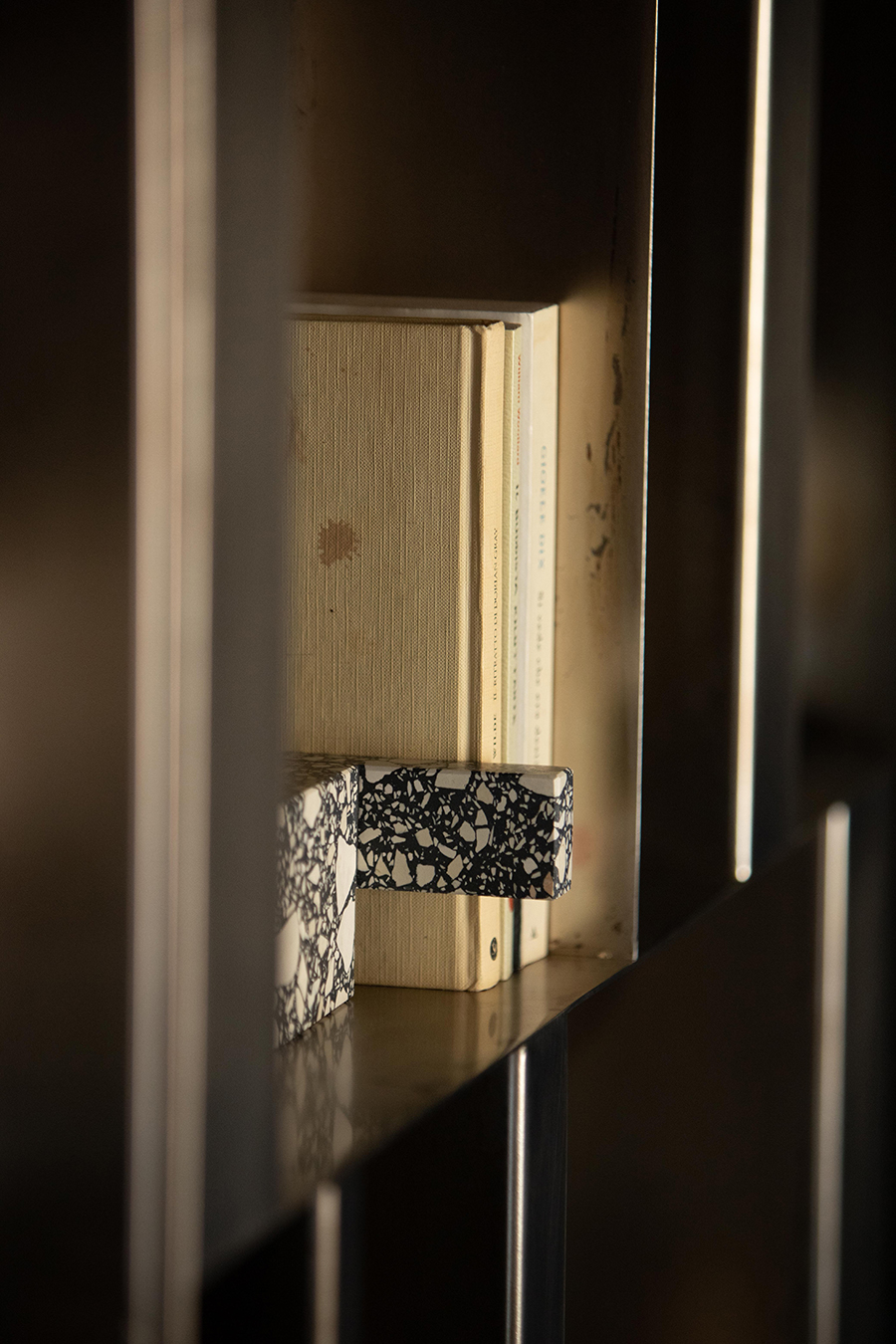 The collection is the result of an in-depth study on the artisan design of the object and typography, starting with graniglia as a single material.
This was possible thanks to the sharing with Studiocharlie of an approach of discovery and analysis of the material, which had already begun years earlier with the Cubi rug-effect decorations. The same search for a new yet unexplored three-dimensionality is what led to the creation of the collections that give a new look to the graniglia.
The collection
Pianeti immaginari, centerpiece.
Graniglia intended as the representation of a celestial painting seen through a telescope: this was the idea that suggested the collection, available in two colors, white like the gas planets and black like the rocky ones and in three textures from the XXL Slabs collection. Numeri, paperweight.
This collection, on the other hand, celebrates Studiocharlie's expertise in lettering and font design, which earned the studio an honorable mention at the XX Compasso d'Oro ADI.
Inspired by rock graffiti, the engravings enhance the craftsmanship, thickness and weight of the material. Ruspe, bookends.
Large and heavy objects supporting smaller and lighter objects, stone against paper, matter against matter. Fossils, centerpiece. Fossili, centerpiece.
Like a precious archaeological find, the marble emerges in section thanks to a subtle game of millings that show the most elementary aspect of terrazzo in all its charm. Buchi, doorstop.
These doorstops are the only objects in the collection that are not entirely mono-material. They are in fact equipped with a brass detail inside the handle, useful for embellishing the contact point between person and product. Function and aesthetics together. Piani Concreti, desk storage.
An overlapping of slabs with an architectural effect on several levels, a real "scenario" for storing the desk material.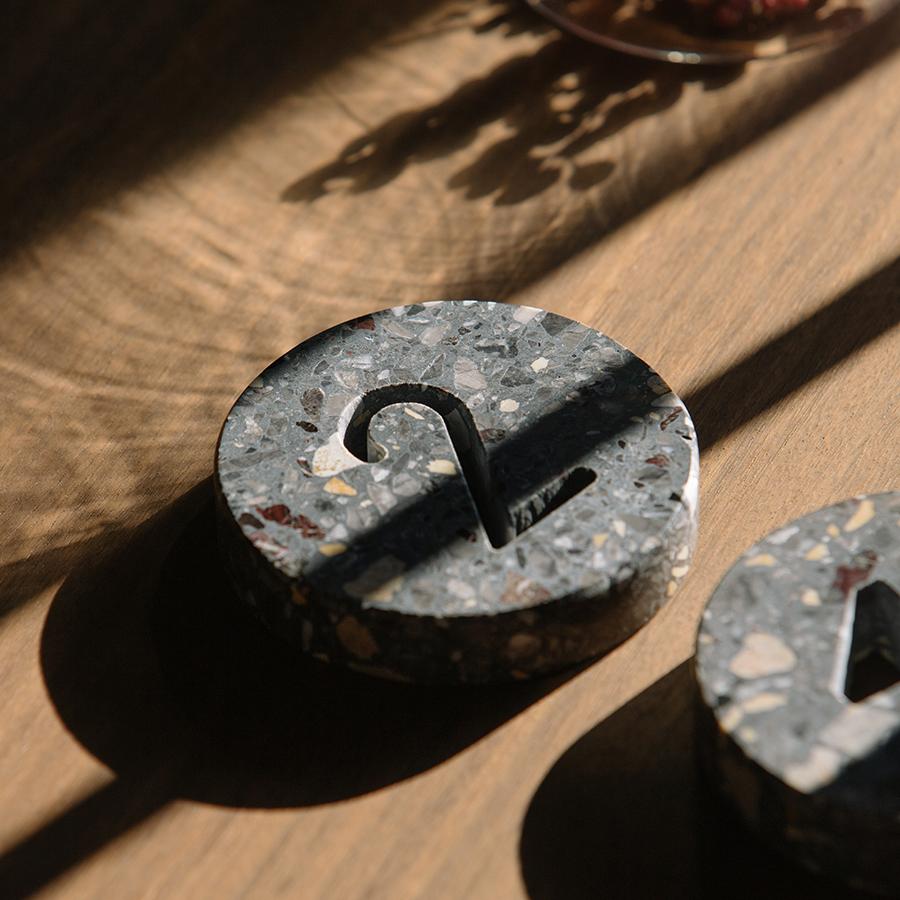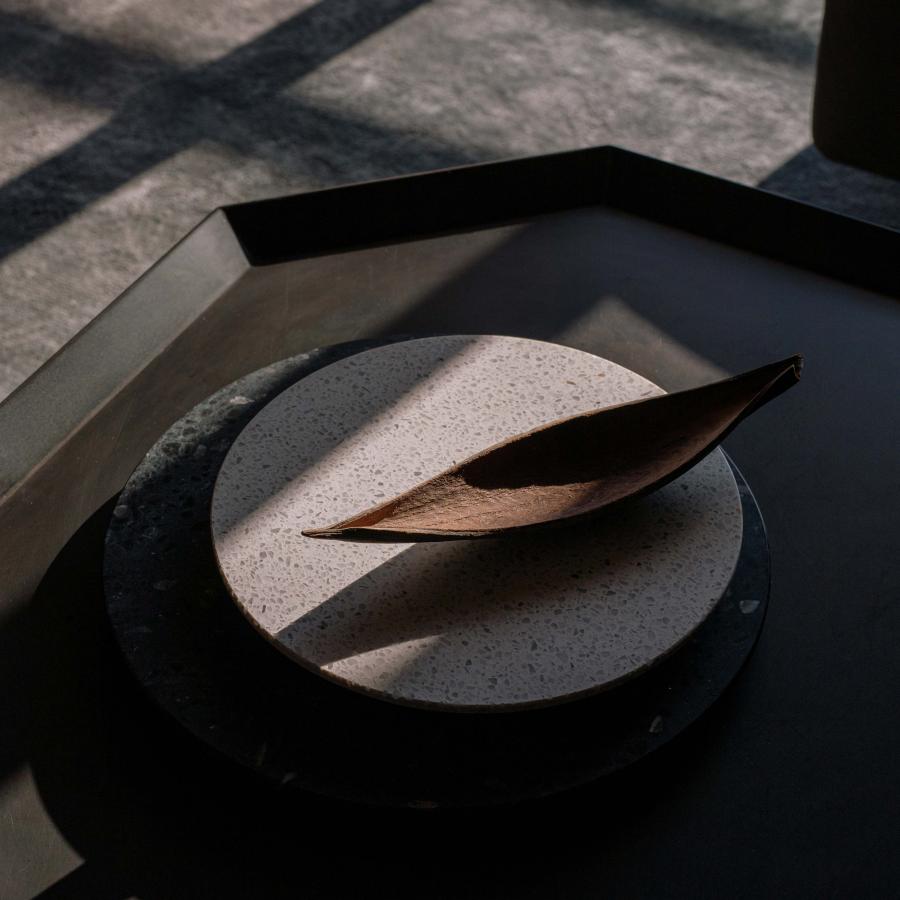 The project goes beyond the surface as an expressive form
Providing new perspective points of view that highlight other qualities of the terrazzo including resistance, strength and durability starting from the thickness clearly visible in section. The collection was presented on the occasion of the 60th Salone del Mobile 2022.